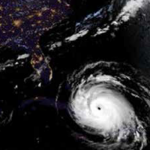 In 2017, Hurricanes Harvey, Irma, and Maria caused more than $200 billion dollars of damage in the United States, as well as the incalculable cost of the loss of life and mental trauma associated with these disasters. In a changing climate, sea level rise and the potential for increasing tropical cyclone intensity can result in even more devastating damages. Therefore, engineers, community planners, and coastal residents need accurate, timely, and accessible forecasting of storm processes and their impact on coastal communities to bolster national resilience and reduce risk to life and property during these events. However, along with uncertainties in understanding and modeling of storm processes, there are complex challenges associated with determining and meeting the needs of end users who rely on these forecasts for emergency management decisions.
To determine needed advancements in storm forecasting, the U.S. Coastal Research Program (USCRP) hosted a Storm Processes and Impacts workshop for coastal stakeholders 16-18 April 2018, in St. Petersburg, Florida. The attendees included local coastal managers, emergency managers, state and regional agencies, federal agency scientists and engineers, academics, and private industry scientists and engineers. Workshop objectives were to synthesize present capabilities for modeling storm processes and forecasting impacts and to prioritize advancements. In addition, the workshop provided an opportunity to bridge the apparent gap between the research of coastal scientists and engineers and the information being distributed publicly and to emergency managers before, during, and after storm events.
N Elko, JC Dietrich, M Cialone, H Stockdon, MV Bilskie, B Boyd, B Charbonneau, D Cox, KM Dresback, S Elgar, A Lewis, P Limber, J Long, TC Massey, T Mayo, K McIntosh, N Nadal-Caraballo, B Raubenheimer, T Tomiczek, A Wargula (2019). "Advancing the Understanding of Storm Processes and Impacts." Shore & Beach, 87(1), 41-55.